Sexy Wet Dreams
Wet dreams are very healthy. They are part of nature taking care of your health once you reach puberty. Your body will automatically flush semen out if there is no sexual activity. This is is likely to happen more often when there are no conscious ejaculations.
Your testicles make about 300 million sperms a day. After a while they need to be flushed out to keep the system running well and not go stale.
If you don't indulge in sexual intercourse or masturbation, nature will do it for you and semen will spill out during wet dreams. This is absolutely normal and a sign of good health. A wet dream is medically known as a nocturnal emission.
If you have had a wet dream you might wake up to find a wet patch on your sleeping clothes or on the sheets. This wetness is due to some semen (the sticky liquid that sperm is part of) coming out of your penis while you are asleep. You don't have to have had a sexual dream or remember having one.

Why Wet Dreams?
Wet dreams are very common, especially in boys until they have learned how to masturbate. It is also quite normal if you don't masturbate or have sex for a while.
They occur during REM (rapid eye movement) sleep, the kind that cause the most vivid dreams and result mostly from the body's need to eliminate the sexual fluids that have accumulated since the last ejaculation. They are part of nature's ways to keep you healthy, just like erections at night increase blood flow to nourish your genitals. Be glad it happens.
Many men actually enjoy their nocturnal emissions. Some have said that only through wet dreams they became aware of their capacity to have such ejaculations and were later proud of such a passage.
Ben Pierce of the Hawking Institute has said: "Many men are actually very happy about wet dreams. One of my patients claimed it was a nice surprise to wake up in the middle of the night to a pleasant, no strings attached orgasm."

The Intelligent Solution
Include masturbation in your night time hygiene routine. After you brush your teeth, masturbate or play with a friend until you ejaculate. When you release any surplus sperm and fluid before you fall asleep, then nature won't have to do it for you. You'll sleep a lot better afterwards.
Make it such a regular habit that your body never needs to induce a wet dream. Blissful sleep will soon follow after skilful masturbation or happy sex with friends. See the other sections on this website for some fun ideas.

Cum Suit
Cotton pyjamas feel cold when they get damp and take a long time to dry. This can leave you uncomfortable after a wet dream. The next day they have to go into the laundry. We have a smarter alternative.
Get unlined, baggy nylon sports pants, wide enough for you to have a full erection in them. They only need to be showerproof, not waterproof, but the must be breathable for you to sleep well. Pick matching pullover tops to complete this new pyjama outfit. Avoid full length zips as they can feel cold and bulky. Get three or four of these suits, one to wear, some spare, one drying out.
How the Cum Suit Works
The breathable fabric has a tight weave that lets air an vapour through but holds back small amounts of liquid. When you shoot your jizz at night, it stays in the pants. Any damp spots will dry out in minutes. This protects your bedding, doesn't get cold, and can be rinsed quickly under the morning shower.
DON'T sleep in a new suit. There are factory chemicals that can irritate you. Wash them out first in by masturbating in your sleep clothes in the bath or under the shower. See how it feels when you blow you cum into your pants. Enjoy!
Night Time Routine
Remember what mother said: "Brush your teeth, have a hot bath and masturbate." Still good advice. A hot bath in clothes before bedtime is very relaxing. Masturbating until you cum releases hormones that help you sleep. After your bath, hang up your wet clothes, put on your cum suit and go to bed.
Most dreams happen in the early morning, the second half of your sleep. By that time your joystick has reloaded and wet dreams may happen. If you wake up with boner, it could mean that you may have to go for a pee or you were about to have a wet dream. Go for a pee, wash your penis and and get the front of your pants wet. Back in bed masturbate until you cum. Your body heat will dry it off quickly with the water you put on your pants. Sleep well and enjoy your morning shower.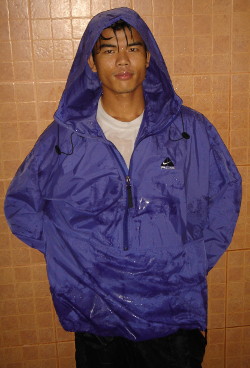 Had a wet dream in your cum suit?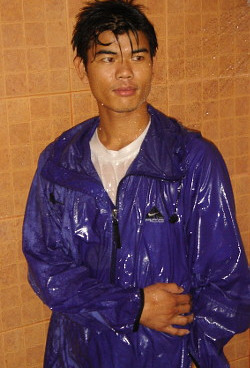 No problem. Take a shower.
Don't Sleep in Tight Briefs
Tight clothes can be fun for playing around in, especially when wet. However, avoid sleeping in tight briefs. They reduce the blood flow and hinder nocturnal erections.
While you sleep you often have a boner to increase blood flow, and supply oxygen and nutrients to your genitals. This is also when you may have wet dreams that make you cum. You don't want to obstruct nature's beneficial work.
Anatomically Correct Sleepwear
Wear anatomically correct sleepwear that has a comfy pouch for your erect penis during the night. It also catches any sperm you shoot out during a wet dream or masturbation, instead of messing up your bedding. In the morning wear it in the shower to rinse out sweat and cum. This is a good opportunity for more fun when you take care of your morning stiffy. Enjoy!
Cum in the shower before bedtime and in the morning. That should control your wet dreams and give you a clear head in the day.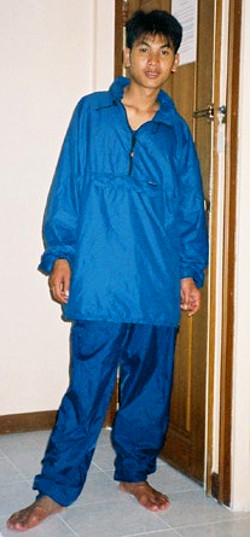 Breathable nylon cum suits feel good and catch all your jizz at night. Rinse in the morning.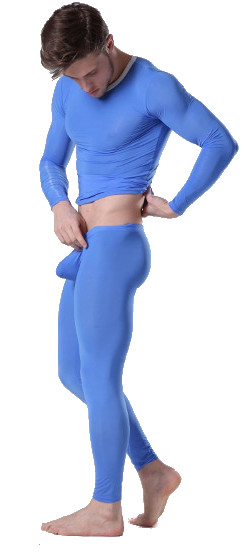 Spandex cum suit with a big pouch for your boner and jizz.